Data-Driven NZ SEO Specialists
Intact Media is your trusted partner for comprehensive New Zealand SEO services. We propel your digital presence, enhancing visibility and driving conversion – ensuring your business thrives online.
Unlock Your Businesses Potential with SEO
We're a compact, enthusiastic team of SEO savants at your service, aiding businesses of all sizes to carve out sustainable, data-fuelled strategies that yield tangible outcomes. Our exclusive dedication is to SEO – no Google Ads, web development or social media distractions. Instead, we focus on driving your business to the zenith of Google search results, propelled by lucrative keywords relevant to your sector.
We understand your dilemma. You're seeking an SEO partner with the prowess you can depend on and one who won't parcel out your tasks to offshore entities. It's not an easy feat, given the New Zealand marketing scene is brimming with self-proclaimed 'gurus' and 'expert' agencies promising swift victories and expedited results. So, how do you sift through the noise to find a genuine SEO provider?
Here's our guiding principle: Return on Investment (ROI). For us, ensuring a significant return on your investment is paramount. Our strategic moves are directed towards maximizing the potency of your website traffic. Ranking on Google's first page for keywords that don't generate leads, inquiries, or sales? That's not our style. Our focus rests on the money-making keywords that are driving your competitors' profits.
Our SEO methodology, much like Google's ranking algorithm, is in a state of constant evolution. Each client we partner with enhances our approach, honing our techniques further. As a New Zealand team committed to SEO mastery, we strive to understand the intricate workings of Google's algorithm, deciphering how it sorts, interprets, and ranks content. We're lifelong learners in this dynamic SEO landscape, continuously honing our skills to offer you nothing less than the best SEO services.
Book Your Free Consultation
Ready to talk about how we can grow your web presence? 
Intact Media, an esteemed New Zealand search engine optimization agency, harnesses the power of performance data, market research, and extensive expertise to forge SEO strategies that fuel growth and withstand the test of time. With a proven track record and a deep understanding of generating organic traffic, leads, and sales, we are the catalyst for your business's online success.
We are not just another agency. We blend time-tested methodology with cutting-edge technology, led by a team of passionate marketing experts. We don't believe in hiding behind account managers or making exaggerated traffic projections. Instead, we deal in concrete facts, tangible figures, and the ultimate measure of success: return on investment (ROI). Our motivation lies in propelling businesses to unprecedented heights they never thought possible.
By choosing Intact Media, you gain the advantages of an in-house SEO consultant without the drawbacks and burdens of managing a dedicated internal team. We seamlessly integrate into your operations, working independently or collaboratively to establish goals and implement organic marketing initiatives that drive exceptional growth. Each step we take is rooted in time-tested data, carefully analyzed and skillfully implemented to deliver remarkable benefits to your business.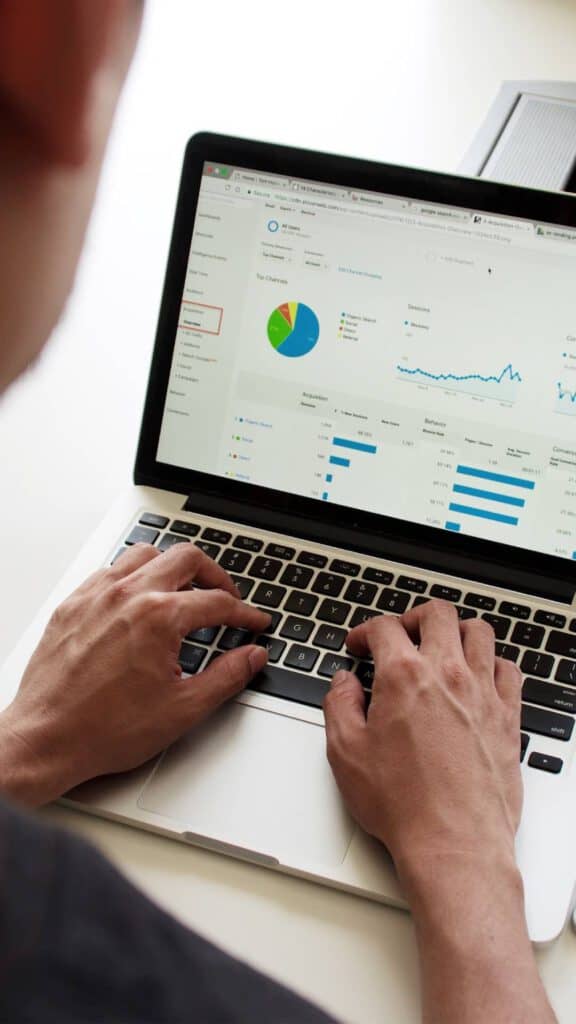 How Intact Media Stands Out
Amidst the abundance of digital marketing agencies competing for your attention and business in 2023, Intact Media stands apart. In a saturated market plagued by short-lived agencies, here's why you should choose us for your organic marketing needs both now and in the future.
Frequently Asked Questions
What Does Intact Media Do?
At Intact Media, we specialize in optimizing the on-site, off-site, and technical aspects that influence your website's visibility on Google. As a team of search engine optimization professionals, we collaborate with businesses to enhance their organic presence in search engines. Our success is measured through key performance indicators such as web enquiries, in-store visits, sales volume, revenue growth, and online brand recognition. We develop customized strategies to ensure your business gets discovered online.
Will SEO Still Be Effective in 2023?
Absolutely! SEO remains the most effective and scalable online marketing channel for businesses committed to long-term growth. It generates lasting traffic that drives leads, enquiries, and sales, providing a sustainable foundation for your business. SEO is a long-term strategy that offers enduring search visibility and is adaptable to the unique challenges of each industry and business. With over 200 factors influencing Google rankings, our team at Intact Media is equipped to implement effective SEO strategies that foster your online growth.
Why Should I Choose to Work with Intact Media?
When selecting a search marketing company, trust your instincts. If you have a positive feeling about the SEO consultant you're engaging with, there's a reason for it. We, at Intact Media, stand out from the crowd. We only take on clients when we are confident we can deliver outstanding results. Not every SEO campaign is the same, and if we believe we may not be the right fit for your specific needs, we'll be transparent about it. Our commitment is to produce exceptional outcomes for our clients.
Will I Get Customized Monthly Reporting?
Measurement is crucial to evaluate the effectiveness of our SEO services, and that's where reporting comes in. We start by analyzing your Google Search Console and Google Analytics data to establish baseline traffic figures. Unlike generic reports, our SEO reports are tailored specifically to your business and goals. We prioritize the key deliverables that matter most to you. Each month presents unique challenges, and if expectations aren't met, we investigate the causes and present you with a plan of action. Our cutting-edge strategies and continuous learning ensure optimal results for your business.
What Are Some SEO Statistics That I Should Know in 2023?
In 2023, Google remains the dominant search engine, accounting for over 93% of search engine traffic in New Zealand. 
Companies are allocating more than $1,100 per month towards link building, highlighting its significance. 
Location-oriented searches lead to offline conversions within 24 hours in 78% of cases. 
Updating existing content can increase organic traffic by over 111%. 
Implementing an SEO strategy has led to increased business for 82% of companies. 
Securing the top position on Google results in more than 34% of search traffic. 
Businesses with a marketing strategy allocate over 41% of their budget to SEO, recognizing its value in driving success.
Let's Grow Your Web Presence
Schedule a complimentary consultation with our SEO specialist today, with no obligations or hidden conditions. Let's explore together whether search engine optimization is the right strategy for your business.
We service all of New Zealand including these main areas