Google My Business & Map Listing
With Google My Business and Map Listings, even small-scale businesses can claim their place on the
first page of Google's search
results, maximizing their reach to potential customers nearby. How so? It's all about leveraging Google My Business and Google Maps to your advantage.
I've got some exciting news for you! Guess what? It's not just the big shots who get to steal the limelight on search engine results. That's right, even the smallest of businesses can grab that prime spot on Google's first page. How, you ask? It's all about harnessing the power of local SEO. When someone's out there Googling for a local business, Google uses their location to pull up businesses nearby. If you've not been playing the local SEO game, you're missing out on a chunk of potential business growth. So, what's the secret sauce for giving your local SEO a hefty boost?
Here's the key: Google My Business! With a Google My Business account, even a mom-and-pop shop can make a big splash. It's like getting a ticket to the front row – right there on Google's first page. 
Your Google My Business profile can showcase everything about your business, from your location to customer reviews. Imagine the exposure – thousands of local online users could see your brand every day! That's some serious brand visibility, and a sure-fire way to rev up your sales.
But here's the catch. You're not the only one out there with a Google My Business account. It's a crowded field. To really stand out, you might need some professional help. Think of it as a Google Maps listing with an extra dash of sparkle. It's all about making your profile pop above the rest. So why wait? Let's dive into the world of Google My Business and get your brand on the map! 
Book Your Free Consultation
Ready to talk about how we can grow your web presence? 
Local SEO Strategies and Tips
We've been in the local SEO game for more than a decade. Yes, you heard it right, we've been creating bespoke local SEO strategies even before Google My Business came onto the scene. What does this mean for you? Well, we've got the chops to craft a unique local SEO strategy just for your company. This strategy will not only include Google My Business but also other cool marketing strategies like social media advertising and PPC.
We're not about to bog you down with technical lingo, but if you're keen to understand the ins and outs of local SEO, we're only a phone call away. Just to whet your appetite, here's a sneak peek at what our local SEO services entail:
And don't forget about your Google Maps listing – that's an integral part of the whole package. We've got that covered too, helping your business stand out on the map and in the search results!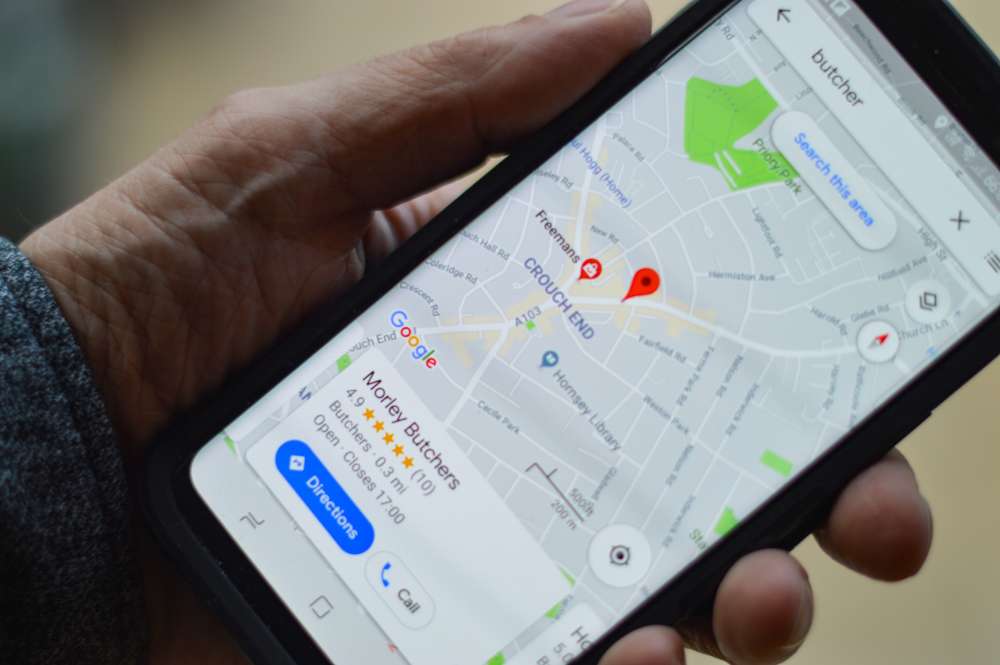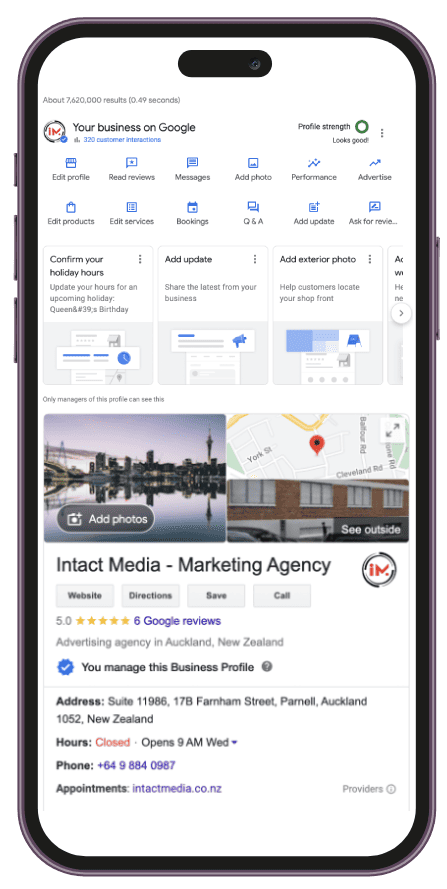 Any Kiwi company can set up a basic Google My Business profile. But let's be honest, without the right optimization, it's not going to do you much good. That's where we come in! We can take your Google My Business profile from basic to brilliant. Not only can we get your company officially verified and shining on the map, but we also have the skills to attract a wave of new customers your way.
We're experts at knowledge snippets optimisation. That means we can whip up SEO-friendly and persuasive descriptions of your company and products. We'll also add in vibrant images, social media links, and much more to your listings.
You see, having a Google My Business account is becoming a must-have. Consider this: about 60% of folks use their smartphones to hunt for local businesses. We're here to give your exposure a serious boost and coax your customers into leaving reviews, visible right there on Google's search engine results pages. Plus, you can respond to feedback swiftly, and persuade users to hop over to your website.
I won't sugarcoat it – managing, optimising, and regularly updating your Google My Business profile can feel like a mammoth task. But it's too crucial to ignore. The good news? Our SEO wizards can take on this heavy lifting for you, ensuring your company reaps the maximum benefits. With our help, your Google Maps listing will be the star of the show!
Sure, Google My Business is a big deal when it comes to local SEO. But hey, don't stop there! A solid local SEO strategy goes beyond just your business profile. To kick things off, consider scoping out directories specific to your area, and get your business listing optimised on each of them. Want to go a step further? Start building backlinks from local websites or businesses, and roll out blog posts loaded with info your local customers will love.
Boosting your local SEO takes a cocktail of factors into account – everything from how you use schema markup and keywords, to the design of your website and its content. If you're still scratching your head over the finer points of local SEO best practices, don't sweat it. You might find it easier – and more effective – to let a seasoned professional take the reins.
Enter Intact Media, your new best friend in digital marketing. We're on the fast track to becoming Auckland's top dog in the digital marketing space, and for good reason. Our deep industry knowledge and track record of success speak for themselves. Whether you need a hand with your Google business registration, a makeover for your current Google business account, or a tailor-made SEO strategy promising a solid return on investment, we're all ears. And let's not forget, we'll have your Google Maps listing shining bright, too. Give us a shout – we can't wait to work with you!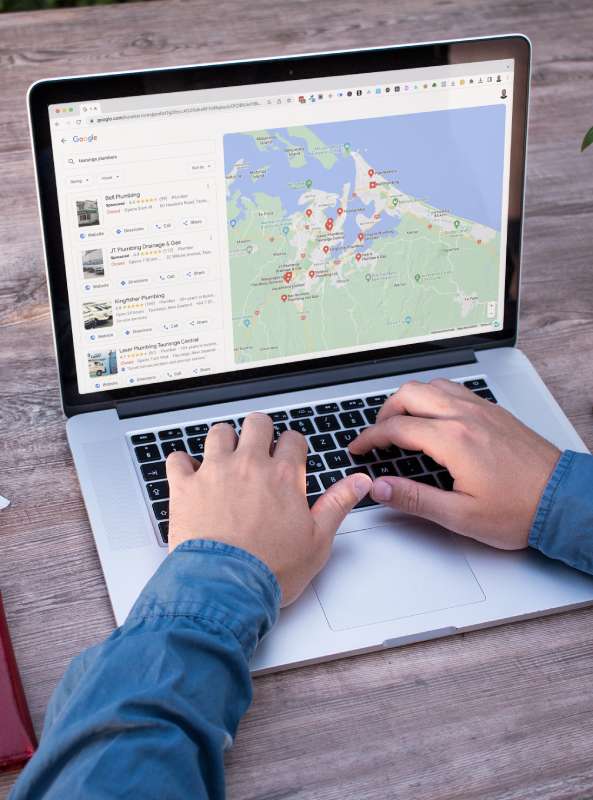 Why Choose Intact Media for Local SEO Services
We're not just another local SEO agency in New Zealand. We're a global powerhouse that's helped everyone from fresh start-ups to major corporations leave their digital footprints. Armed with our wealth of experience, we recognise that local SEO marketing is a potent tool for expanding your customer base and enhancing your reputation. Our savvy in-house team can get your business listed on Google, make it a star on the first page, and optimise your listing (including that all-important Google Maps listing) to boost your conversion rate. The best part? We'll cultivate your local customer base while you focus on doing what you do best.
Beyond local SEO, we are masters of all things online marketing. From search engine optimisation, pay per click advertising, and social media marketing, to content marketing, video production and so much more – we've got you covered. And all this at a price that won't make your wallet flinch. Our mission? To craft a comprehensive online strategy that promises to rocket your company to new heights. While we might be a fresh face in Auckland, our experts have been serving New Zealanders for years. Give us a ring today to discover why we're quickly becoming a top Auckland agency, and learn more about our local SEO services – optimised with Google My Business in mind, of course!
Frequently Asked Questions about SEO Auckland
Want a hand with your Business Profile?
Fill in the form below and we'll give you a call to chat about your business. It's not a scary task, and doesn't take long! If you're in a competitive market, we can also advise you on what you need to do to climb the Google Listing ranks.